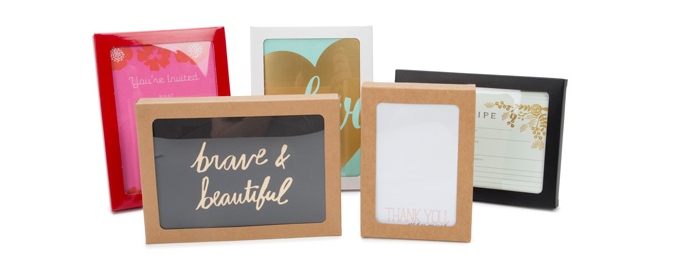 Few packaging materials are as multifunctional as cardboard window boxes. Whether you are selling food products, cards, clothes, cosmetics, or jewellery, in these handy Packlinq kraft boxes you can sell your products in an amazing-looking way.
Below we share four ways you can use our handy cardboard window boxes. But above all, let yourself be inspired and discover new ways to pack your products.
See our wide range of kraft window boxes
1. Food products
Special biscuits, Old Dutch candy, a beautifully decorated chocolate bar, or perhaps even a mixture of nuts; the cardboard window boxes can be used for many different food products. Namely the kraft boxes are completely food safe and FDA approved.
2. Hobby material and cards
The kraft window boxes are mostly used for packing hobby materials and (greeting) cards. The material doesn't affect the package, so your products keep their perfect shape. Placing an archiving sheet in the box for complete protection is optional as well.
3. Clothes and underwear
You name it, and you can pack it in Packlinq's cardboard window boxes.
Plain T-shirts, socks, underwear, shawls, and so on. Because of the transparent window in the front your customer can see exactly what they are buying, while the fabric doesn't become damaged by touching it.
4. Cosmetics and jewellery
Are you selling different kinds of cosmetics or for example jewellery? Then a craft box is a wonderful way to pack your product. The transparent window makes sure your customers can take a good look at the content. Besides, they immediately have a handy box they can use to keep the cosmetics or jewellery in.
Cardboard window boxes: 1001 ways to use them
Our cardboard window boxes are multifunctional and moreover, environmentally friendly! The kraft boxes are made of recycled material and are available in many different sizes. Thus, there is always one that fits your products. And would you like to try out a kraft box, for example to test which size fits your items best? At Packlinq you can!
See which kraftpaper window box fits your product best